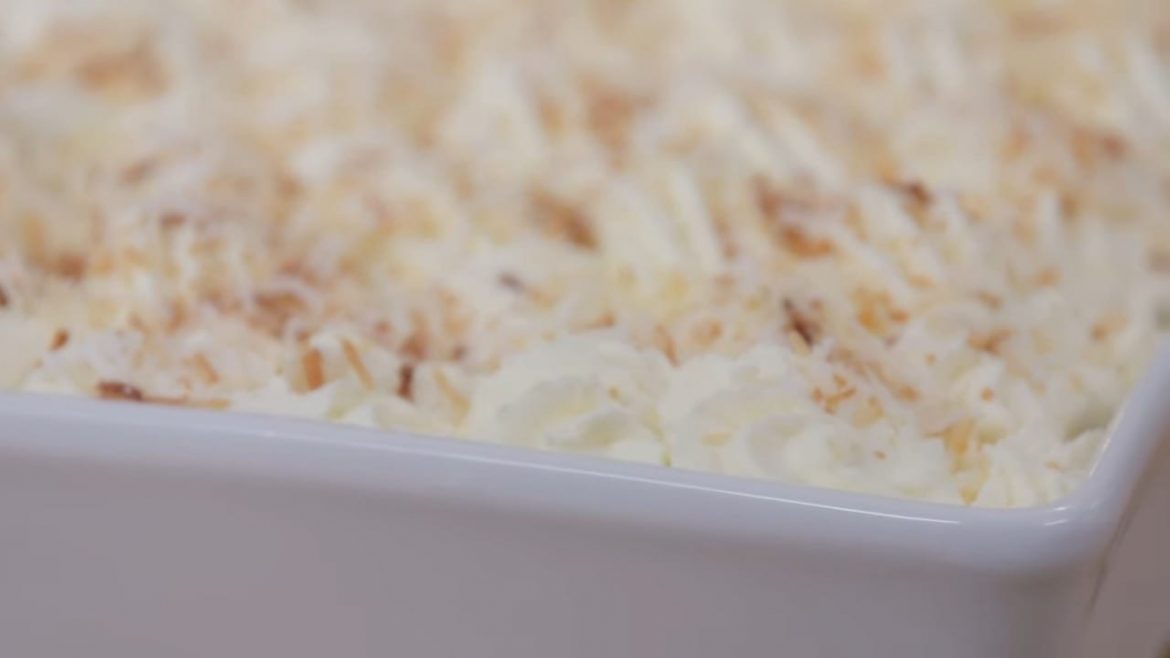 Ingredients
Cake
½ cup (115 g) unsalted butter
1 cup (250 mL) 2% milk
4 eggs at room temperature
2 cups (400 g) granulated sugar
2 tsp vanilla extract
2 cups (300 g) of all-purpose flour
2 tsp baking powder
½ tsp salt
¼ tsp ground nutmeg
Milk Mixture
1 300 mL tin sweetened condensed milk
1 354 mL tin evaporated milk
3/4 cup (175 mL) whipping cream
1 tsp vanilla extract
Topping
2 ½ cups (625 mL) whipping cream
¼ cup (32 g) icing sugar
2 Tbsp instant skim milk powder
2 tsp vanilla extract
1 cup (100 g) sweetened shredded coconut, lightly toasted (optional)
Instructions
Preheat the oven to 325 °F (160°C). Grease a 9-x-13-inch (23-x-33 cm) baking pan and dust the bottom and sides with flour, tapping out any excess flour.
For the cake, heat the butter and milk over low heat until the butter has melted. Set the mixture aside to cool slightly.
Whip the eggs, sugar, and vanilla on high speed using electric beaters or a mixer fitted with the whip attachment until the eggs are doubled in volume, 3 to 4 minutes. Sift the flour, baking powder, salt, and nutmeg. Fold half of the flour mixture into the whipped eggs, then add all of the butter mixtures, then fold in the remaining flour mixture. Scrape the batter into the prepared pan.
Bake the cake for about 40 minutes**, until a tester inserted in the center of the cake comes out clean.
While the cake is baking, prepare the milk mixture. Stir the condensed milk, evaporated milk, whipping cream, and vanilla together. After the cake has come out of the oven and cooled for 10 minutes, poke holes in the cake using a bamboo skewer and slowly pour the milk mixture over the entire surface of the cake (the cake will absorb all the moisture and swell up). Cool the cake to room temperature and then chill the cake for at least 3 hours.
For the topping, whip the cream until the cream holds a soft peak. Stir in the icing sugar, skim milk powder, and vanilla and then spread or pipe the cream over the surface of the cake. Garnish the top of the cake with toasted coconut (if using) and keep the cake chilled until ready to serve. The cake must be stored and sliced directly from the pan.
Notes
The cake will keep, refrigerated, for up to 5 days.

**If baking the cake in a ceramic or porcelain dish, for presentation, you may need to add 10-15 minutes to the bake time (ceramic takes longer to heat up than metal or glass).

Did You Make This Recipe?
This video is presented as described video for the visually impaired.
---
Enjoy
Let us know what you think of today's tres letches cake for family celebration tips, tricks, and hacks!